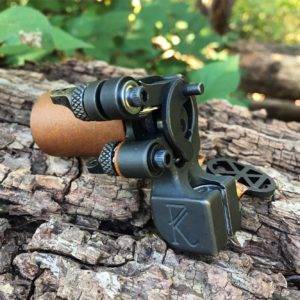 I have developed this machine to be an all purpose driver.
The weight is very forward and balanced.
It is made of brass, and has a good weight to it without feeling cumbersome.
This is the machine I would recommend for cartridges, but keep in mind that cartridges will still reduce the life of any machine.
It is very versatile and can accomplish any task easily and efficiently except for effortless lines 9L and up. (For effortless large lines, please check out the Sidewinder!)
The machine's versatility comes mostly from being able to change the characteristic of the hit form passive to punchy by simply flipping the clipcord around. When the motor runs counterclockwise (positive down) it will hit with more punch.
Clockwise, (positive up) it will have a more passive hit, and have a slight amount of dampening to it. On top of the simple directional adjustment, the stroke is also easily adjusted within seconds!
The stroke can be set at 3.2, 3.7, and 4.3mm.
I really like this machine for fine lining and when I want to be able to whip my lines for a dramatic stipple effect.
It can do easy whip shading or smooth black and grey — depending on stroke setting and/or motor direction. Also really shines with large mags for solid saturation.
As a side note, I really like running the motor counterclockwise for a more snappy feel. I like the shortest stroke for black and grey (even when running snappy). The middle for pretty much everything, and the longest for my lines, stipples, and slow running peppery whip shading.
The faster you like to run the machine, the shorter you want your stroke!
Shop this machine here.
To submit a Repair Form click here