Mojobox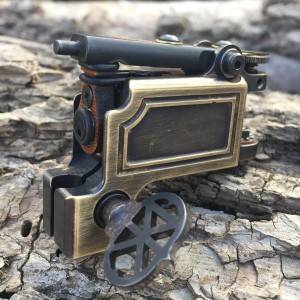 The Mojobox V1 is a new concept of making a shader compliment to the Sidewinder.
It has a relaxed and efficient hit that is very coil like, yet, like the Sidewinder, lighter and quieter.
It works great for small and large mags in the 4.5-6 volt range.
I also like it for lining with 3-9 rounds.
Weighs 5.3oz with a good balance.
There are adjustments, but mainly to smooth out and stabilize. It hits in a manner that can put the ink in easily without being traumatic. With that said, I feel I found a sweet spot where it is most versatile.
*Please note that this is a pro's tool, and a good tool in the wrong hands can causes a lot of damage!
To submit a Repair Form click here